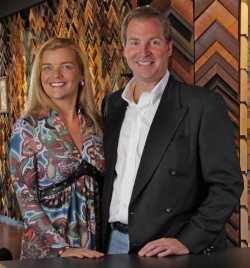 We spent the first 10 years of our marriage searching for a business we could build and grow together. Years later, we are finally living our dream. After our first year in the custom frames business in Tampa, we were selected as Decor Magazine's Top 100 Galleries in the country. After three years in business Decor has selected us as one of the Top Ten frame and art galleries in the country.
After the recession hit, it is estimated that more than 50% of the frame shops in the United States went out of business.  During the difficult times we maintained our on the quality of our work, how best to preserve your artwork as well as create a frame design that will best enhance that which you are framing while maintaining a sensitivity to your budget. We strive to provide you with the best overall shopping experience. No matter what it is, if it is important enough for you to have it framed, it is important to us. With four full time experienced framers on staff we can specialize in conservation framing, and can frame pretty much whatever you want to preserve and display.  It has been ten years since we opened our first store, and we have been blessed with a strong staff, and wonderful customers.  We think Thomas Jefferson said it best: "I'm a greater believer in luck, and I find the harder I work the more I have of it".
We appreciate the opportunity to help you preserve and display whatever you have. We have over 2000 custom frames to choose from which allows us the opportunity to provide you with a frame design that will fit with almost any decor. If turn around time is more important to you, it is possible for us to have your artwork framed and ready to hang in less than a week because we do all of our framing in house. And if you need help finding artwork, we have access to over 500,000 prints and posters via the internet, as well as original artwork from some of our local artists.
We invite you to visit any one of our Tampa Bay area frame galleries:
South Tampa 3810 Neptune St. B-3 Tampa, Fl 33629   phone:  813-254-5423
St. Petersburg 8908 4th Street N. St. Petersburg, FL 33702    phone: 727-578-0030
Alan & Heidrun Divers