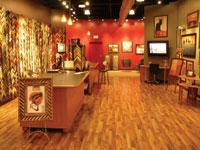 Did you know that The Great Frame Up is a locally owned and operated small business? That's right! While we are a part of a franchise system, our store is owned, operated and managed by longtime Tampa residents Alan and Heidrun Divers. That means you will see the same friendly faces each and every time you stop into our store. It also means that we care (a lot!) about our local community and we want to make it a great place to live and work.
We focus on the quality of our work, how best to preserve your artwork as well as create a frame design that will best enhance that which you are framing while maintaining a sensitivity to your budget.  We strive to provide you with the best overall shopping experience.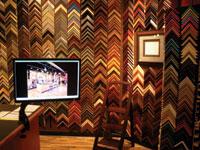 No matter what it is, if it is important enough to you to have it framed, it is important to us.  We appreciate the opportunity to help you preserve and display whatever you have, whether it's a diploma, a painting, a jersey, photographs, christening gown, or anything else you can think of.
We have over 2000 custom frames to choose from which allows the opportunity to provide you with a frame design that will fit with almost any decor and almost any budget.
If turn around time is more important to you, we can have your artwork framed and ready to hang in less than a week.
And if you need help finding artwork, we have access to over 500,000 prints and posters via the internet, as well as original artwork from some of our local artists.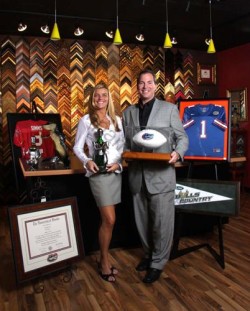 We invite you to visit any one of our Tampa frame galleries and see why we have been recognized by Decor Magazine as one of the Top 100 frame galleries in the country.
We can make your home a beautifully decorated place to live…and we can also make your community a great place to live – all with your help.